Have The Party You've Always Dreamed About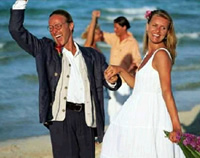 The waiting is finally over... the ceremony was wonderful. Now it's time to turn on the music and let the fun begin. Let us make this the most perfect day of your life.

When the party is over your guests will remember one thing... did they have a good time? Our experienced DJ's are dedicated to making your reception fun and memorable.

We are much more than just another mobile DJ service. We provide our customers with the highest quality reception planning, mobile music service in Central Wisconsin. All at an extremely affordable, price.
Professional and Dependable
Our professional DJ's arrive on time, neatly dressed to fit the occasion. We provide you with music from a top quality professional sound system. Our DJs bring an enthusiastic fun loving spirit without being goofy.

Our DJ's are experienced and talented entertainers who are experts at knowing how to get your party going. They will gladly make announcements and play requests. Most importantly, they are there to make sure everyone has a wonderful time.
We Play It All From the "40's to the Top 40's"
Our music collection contains more than 10,000 songs by popular artists. We have it all... Top 40, Rock & Roll, Oldies, Country, 70s, 80s, Disco, Funk, Jazz, Big band, Swing, Latin, Party Dances, Dinner Music and Ethnic Special Dances.

Our extensive, all CD collection insures that your Reception will have the right music at the right time and no one's favorites will be left out. In fact, we'll provide you an opportunity to select the specific tracks that we play, or just tell us what sort of music you're looking for, and we'll do the rest.
To make your wedding reception perfect, we can assist with...
* A "Grand Entrance" introduction when the Bride & Groom arrive

* Best Mans Toast and Serving of the Champagne

* Bride & Groom's First Dance

* Father & Daughter Dance

* Money Dance

* Cutting of the Cake

* Bouquet and Garter Toss

* Any Other Requested Events

We'll work with your Photographer and/or Video cameraman to co-ordinate each of the events, allowing you to relax and enjoy your reception.
Dazzle Your Guests with Great Lighting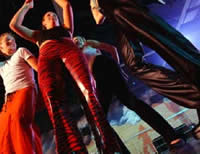 Lighting effects are always available. If the room is darkened, these effects are guaranteed to generate excitement while people are dancing. Our "Intelligent Lighting" dances to the beat of the music. When the song is slow, the lights are "dreamy" and when a fast song rings out, the lights furiously pump out multiple rays of lights.
Get a Price Quote...